MR. DAVID MISCAVIGE, CHAIRMAN OF THE BOARD RELIGIOUS TECHNOLOGY CENTER
Keynote Address at the Grand Opening of the Church of Scientology of San Francisco
On the 29th of November 2003, in his keynote address at the Grand Opening of the new Church of Scientology San Francisco, Mr. David Miscavige described the event as a "milestone step in our planetary crusade to urgently bring on our help on a global scale, with the importance of today's occasion extending across the Scientology world."

Going on to say, "what stands before you is nothing short of spectacular, representing the decade-long dreams of Bay Area Scientologists," David Miscavige explained just what this new church brings to the San Francisco community and the significance of this event to every Scientologist.

David Miscavige: Thank you very much and it is truly my great pleasure to join you in opening this new Church of Scientology of San Francisco. Because, and let there be no doubt, the significance of this day transcends what stands before you. And that really is saying something, since what stands before you is nothing short of spectacular, representing the decade-long dreams of Bay Area Scientologists.


Mr. David Miscavige, Grand Opening of the Church of Scientology of San Francisco
Yet, while that alone may be cause for celebration, the importance of this new church, your new church, extends far beyond this structure, or this city.
In that regard, today marks a milestone step in our planetary Crusade to urgently bring on our help on a global scale, with the importance of today's occasion extending across the Scientology world.
For while the official ribbon cutting will mark the completion of one cycle-of-action, it actually is the start of another you can mark down as a pivotal point in history. And no, none of it is by chance, none of it isolated. Rather, and whether you were aware of it or not, there are specific reasons for: "Why San Francisco?" and "Why now?"
As for timing, it has everything to do with crucial strategic programs launched as part of our "wake-up call".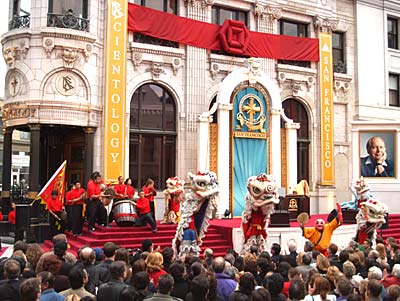 As for San Francisco — it has everything do with that word "history." I am of course referring to L. Ron Hubbard, and just why he was always so fond of this area. Because, while many other cities are known for LRH milestones in research and development: Places like Elizabeth, New Jersey and Book One (Dianetics), Wichita, Kansas and the isolation of the human spirit, Philadelphia and the Doctorate Course, Phoenix, Arizona and the roots of our religion, Washington DC and the Founding Church. Not to mention so many others, through his years at St. Hill in England, and the Flagship Apollo, none of them can claim the fame of where we stand today.
For if this church marks the beginning of a new era it is only appropriate since it is also where the entire journey began. Or, put another way, when LRH delivered his famed lecture "The Story of Dianetics and Scientology" the events in this city are that story.
It was here, as a young boy, he boarded the U.S.S. Grant for a cruise that would take him through the Panama Canal, en route to Washington DC. Yet more significant than his destination, were the events of that voyage. Specifically, it's where he met and befriended Commander "Snake" Thompson, a man who had studied under Sigmund Freud, at the behest of the United States Navy.
And while LRH soon discovered those answers left much to be desired, in terms of unlocking the riddle of the mind, it was the catalyst for a young L. Ron Hubbard to embark on a life's journey to find them.
Then, four years later in 1927, it was San Francisco again where LRH boarded the President Madison en route to Guam. It was an era when very few Westerners, of any age, had experienced, let alone knew about the ancient wisdom of the East extending back thousands of years.
And it would serve as the next great lesson in LRH's life. For what he saw was a land where spiritual, not materialistic values, dominated, and people possessed a kind and gentle nature, all but lost in modern western culture.
Yet, with abject poverty in evidence everywhere, LRH also concluded there must be more to it all — a meeting ground between east and west. These were the experiences that motivated his quest, continuing for the next two decades, and taking him deep into twenty-one different cultures, from the Aleut Indians on the Alaskan frontier, to primitive cultures, in then-still unexplored West Indies Islands, to further travels even deeper into Eastern lands — right into China and India.
While between those travels, came lessons as a student in the first class of nuclear physics, at George Washington University, where LRH continued his search for the long elusive life force. So yes, while people often speak of "the world as one's laboratory," in the case of L. Ron Hubbard, it was literally true. And if those researches were yet interrupted by the Second World War, well, the war itself was the ultimate testing ground for his discoveries.
Because, we once again return to the Bay Area, where LRH walked at the outset of his service in that war, and where he then pioneered the very techniques of Dianetics at Oak Knoll Naval Hospital securing his own and others' recovery from injuries from that war. In fact, those were the very techniques he would soon publish in Dianetics: The Original Thesis, and then, as further developed in Dianetics: The Modern Science of Mental Health.
And, if that's just the brief recap of why this area is where it all began, well, let's put an exclamation point on it: As in 1950, with Book One first on the shelves, riding the New York Times bestseller list and otherwise taking this nation by storm. For, it was then, right across the Bay, in Oakland, that LRH spoke to the world's largest Dianetics group.
Moreover, those lectures, and his personal demonstrations of Dianetics auditing techniques, stand as the only such recordings in existence, and are studied to this day by every one of the new millions continuing to step on the Bridge.
But, if that is the "history" of LRH, Dianetics and Scientology in the Bay Area, there yet remains world conditions and the greater significance of all LRH sought to accomplish. For that view, you only need to turn to Book One, Chapter One, paragraph one. Here is what he says,
"A science of mind is a goal which has engrossed thousands of generations of man.
"Armies, dynasties and whole civilizations have perished for the lack of it.
"Rome went to dust for the want of it.
"China swims in blood for the need of it.
"And in the arsenal is an atom bomb, its hopeful nose full-armed in ignorance of it." — L. Ron Hubbard
And if those words were written in the aftermath of a world war and the beginnings of a new cold war, their relevance to any time was brought home to one and all two years ago.
For while the past half-century since the publication of Dianetics has seen so much "scientific" advance, with man even reaching the stars, the evils of 9/11 have demonstrated it is all but a fragile facade that can tumble down at any time, if we don't resolve the real enemy of man—the reactive mind that enslaves him and makes him act as he so irrationally does. And that is what our "wake-up call" was all about, and the greater significance of how this new church came to be, and the responsibility it now must carry.
And here's what I mean. Two years ago we launched massive new programs on several fronts. While the world spoke of terrorism and the immediate military response, we recognized those acts of devastation as but a mere symptom of the greater illnesses plaguing man.
And for all the materialistic advances—all the fancy cars, computers, worldwide communication—we yet see the very fabric of the culture being torn asunder with addiction, illiteracy, criminality, and immorality at all-time levels.
So if we had workable solutions, it was time to bring them everywhere, on a planetary scale, to both reverse those trends and show that something can be done about it.
NARCONON

First was our assault on drugs and the establishment of our Flagship Narconon in Oklahoma—as both the largest residential drug rehab facility on Earth, and as a center to train people to take it everywhere. As a result, our Narconon program now extends across thirty-seven nations while today we are consulting with the governments of China, Pakistan and the Philippines.
Meanwhile, we are also now opening new rehab centers—at the rate of one every eight weeks. So yes, we are doing something about "addiction."
APPLIED SCHOLASTICS

Similarly, and just four months ago, we opened our new 100 acre campus in St. Louis, as our "Flagship" for Applied Scholastics International.
Today our education and literacy projects reach into inner-cities through 415 centers across fifty-four countries. That's just a start. For while our groups have been bringing the tools of literacy outside the school system, that new campus is now training governmental educators that represent the school systems of entire nations. From as far away as Zimbabwe in Africa, in Mongolia and yes—even with the United States Department of Education.
So yes, we are doing something about illiteracy.
CRIMINON
As for criminality and conflict, the situation runs a lot deeper than our inner-cities. What about conflict with nation against nation? The answer to both is The Way to Happiness. It provides a common sense guide that people of every race, creed, or nationality can follow, and gain a common-ground of respect for others.
And that's why, just last month, we opened the new International Headquarters for The Way to Happiness Foundation.
And while grassroots dissemination has already seen 68-million copies. We are now seeing it used by whole police forces, entire city governments, full prison systems, as part of the humanitarian mandate of National Red Cross Centers, and even a million copies into the Middle East with the Palestinian government, itself, now using it to teach their next generation.
So yes, we are doing something about restoring values and the brotherhood of man.
VOLUNTEER MINISTERS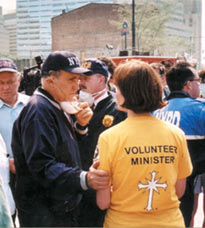 And finally, we work to bring our help wherever and whenever. Because for all else the terrorist atrocities wrought in terms of immediate destruction, the far greater fall-out is better measured in the apathy, depression, worry, and insecurity of people everywhere.
That is why we put out the call for an "army" to come aboard as Volunteer Ministers, on call 24 hours a day, and trained to handle human despair and anguish. We've owned up to our responsibility and just since 9/11, it's represented by over 24,000 new Volunteer Ministers, across fifty countries.
In that time we've been appointed official members of emergency task forces — in Hungary, during their natural disasters, in Moscow to care for families and victims during Chechnya terrorism, and right here in California, counseling those who lost so much during recent wildfires.
So yes, we are doing something about it, bringing real compassion no matter the circumstance.
Yet, if those steps are an impressive first response in just two years, let's not forget they are but a first step. Moreover, let's not forget why we work with greater urgency than ever: To halt the societal decline so we yet have time to provide the Bridge that is Dianetics and Scientology, to the full accomplishment of our Aims:
"A civilization without insanity, without criminals and without war, where the able can prosper, and honest beings can have rights, and where man is free to rise to greater heights." – L. Ron Hubbard
And therein lies the greater significance of our new churches like this one we are forming the world over; because what stands before you is not just a new church, but an entirely new type of Church of Scientology.
While we can provide international support for broad-scale programs, the fact is we must yet bring it on the ground, into every community. To accomplish that, requires the establishment of major footholds, in every city, that not only can provide all the help we offer, but which can themselves generate the same everywhere else.
And while that most definitely applies to every one of our Social Betterment programs, I am also speaking of the Bridge itself. For if we are to bring that ultimate freedom, it can no longer only be represented at Flag or our Sea Org organizations.
Which is to say, for all you have previously looked to our top organizations and what they emanate across the globe, then that is what we are now establishing in crucial locations with those same responsibilities for their geographic zones: Organizations that stand as the Flag Land Base for their part of the world, places like San Francisco as the Central Organization for the entire Bay Area.
While much too extensive to detail right now, I can tell you this: for your progress in the here-and-now within this new church are training and auditing facilities that not only bring Flag-level standards, but could themselves appear in a tech training film.
And, that's just a start. Because, as you will also hear in the coming year, it's all in preparation for even greater programs that roll out from here, in the name of planetary clearing, for real.
But even that hardly says it all. When I began, I stated the importance of your new church extended beyond this city. In that regard and, again, whether you knew it or not, your church was also created as a model for others to follow. And not just in terms of its establishment, but also for the dedication of its field and an inspiration of just how it can be done everywhere.
You no doubt have heard of new churches in recent weeks, and they are coming very fast. To that end, I have recently traveled the globe, over forty thousand miles in the last month, visiting our organizations, east-and-west and in both hemispheres. On the one hand, the problems you find in this city are the same you will find anywhere. After all, no matter their race or culture, Man is Man and everyone embodies the hopes, dreams and aspirations we all do.
Yet, despite those similarities, each one also presents their own unique circumstances: ethnic diversity, socio-economic standing, their most pressing concerns in the here-and-now. Which is why, each of the new churches we have recently opened represent that model for all similar cities of this world.
Tampa: It's a church that stands in the shadow of our Mecca and with its field composed of the top Scientologists, was a first test on how rapidly a church could be built from the ground up. Today it's the 13th largest church on Earth.
Johannesburg: It's one of the farthest points on the globe. Moreover, it's in a nation where 90% of its population was suppressed for more than 50 years and, although now freed, has the highest crime and unemployment rate on Earth, over 40%. So it was established as a model to bring our programs into the world's most underprivileged townships on a massive scale.
It's already begun with their Deputy Prime Minister presenting our education programs to Parliament, while we further are providing materials to open thousands of Volunteer Minister groups. In just a month that organization has grown to the 14th largest on Earth.
Then there is Buffalo which, although the second-largest city in New York State, represents "Any-Town USA" or, for that matter, the world. It is comprised of your blue-collar workingman and is representative of middle class communities everywhere. Yet it, too, now stands as a model of the Golden Age of Tech, and even its city leaders just urged the org staff and public to achieve St. Hill size.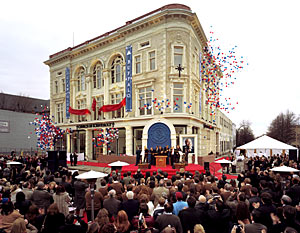 Which brings us to San Francisco, and a city far different from them all. For if we speak of bringing our help to communities everywhere, here stands a city representing them all, with one of the most diverse cultures on Earth, diverse ethnics, diverse races, diverse creeds.
Even more than that, and let's face it, San Francisco is one of the finest cities on the planet, and only, arguably, rivaled by places like New York City, Paris, London, and maybe a handful of others. In a word, San Francisco is truly world-class.
And, if this is where it all began, then it was time, after all these years, for your church to take its rightful position in Scientology. So, as for where you stand today, right at this moment?
Well if San Francisco represents a world-class city, then what you have created is the world-class church that now stands at the very pinnacle of all of Scientology!
So now, it is time to move forward. For this is a place you can not only achieve personal victory over the reactive mind, and attain the freedom of Clear, it is a place from which you can bring that freedom to an entire city.
Here is the Central Organization from which to bring all our programs, all our tech, literally everywhere. And by that I mean you can bring tutoring programs to help all generations, and give every community the language skills they need to realize their dreams in this land of opportunity.
You can spark the new groups that bring LRH tech to those working with unemployed and the homeless, to give them not only a new chance, but a new life. Across every community, you can form the Narconon Chapters to end addiction.
In every prison, halfway house and juvenile hall, you can establish Criminon programs to restore self-respect and return to society contributing citizens.
In every neighborhood, you can form The Way to Happiness associations to bring common sense morals right to the streets, and Volunteer Minister Chapters to tend to every other of life's problems.
And beyond that, and most important of all, you can create new Missions in every community. In Chinatown, outer-Richmond, the Mission District and from North Beach to the Pacific Heights, helping each one move onto the Bridge itself.
In other words, from here you can do it all. For this is more than just a home for you, the Scientologists of San Francisco. It's also a home for the broader community, where all men and women of goodwill are welcome, and who we dedicate ourselves to helping, each and every one.
And in recognition of that, it is my honor to present you with this trophy. It reads,
"You are creating an island of friendliness, decency and succor in the sea of a violent world.
"Sometime in the future the islands will become the sea.
"Others talk about a better world.
"We are making one." — L. Ron Hubbard
"To the Executives, Staff and Public of the San Francisco organization, in commemoration of the grand opening of your new Church, and all you will do to make that better world."
Thank you very much.
Ribbon Cutting Ceremony
So there you have our place in history; there you have our role on the world stage. And the time has now come to step into the future with the official opening of our new home.
To help cut the ribbon, I would first like to invite to the stage two individuals who showed exemplary dedication to making this day possible, and who, in turn, represent the efforts of so many other dedicated Scientologists -- far too numerous to stand on this stage:
The OT Committee Chairman, Mr. Dennis Negley, and from the Clear Expansion Committee, Ms. Connie Latch please come forward.
Finally, on behalf of all the staff and executives of the San Francisco Day and Foundation organizations Executive Director Day, Mr. Jerry Ratcheff, and Executive Director Foundation, Mr. Jim Fitzgerald.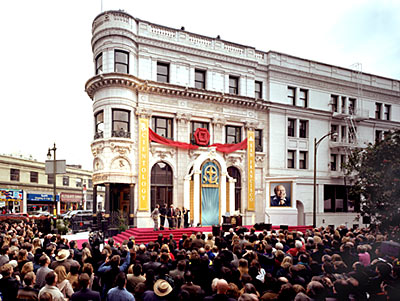 With that Mr. David Miscavige and guests cut the ribbon to the new Church of Scientology of San Francisco.